Home
/
Machines
/
OTEC Mass Finishing
/ Jewellery Polishing Machines
OTEC EPAG Flex and EPAG Smart for Fast Precise Electro-polishing of Jewellery Pieces
Fintek are pleased to offer world renowned UK fine precious metal artisans, jewellery and watch makers, the EPAG Smart and Flex range of electropolishing machines from OTEC Präzisionsfinish GmbH.
EPAG Smart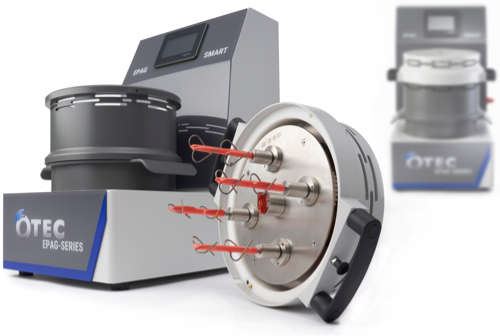 Suitable for cast and 3D printed jewellery
Finishes stone-set jewellery as well as intricate geometries
Easy metal recovery via deposition on cathodes
Easy-to-program the direction of rotation, voltage, processing time and speed via touch screen. Precise and repeatable
Process container cover with 4 holders, each for 4 jewellery pieces (16 processable in total)
Can be controlled by mobile phone application
Small desktop footprint: 570 x 350 x 610mm
EPAG Flex (modular)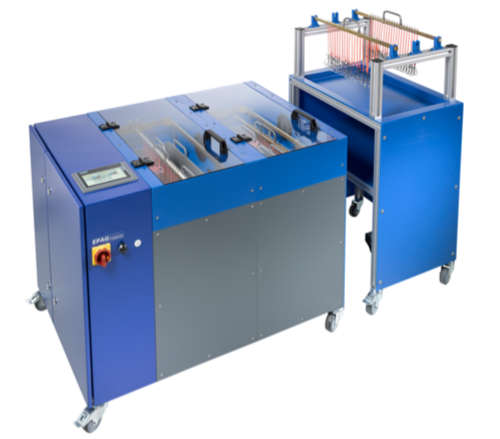 Modular design is ideal for larger jewellery manufacturers
Comes with one tank and easily scales-up by adding up to two more process tanks. Each tank can process up to 40 jewellery pieces at the same time.
Filter unit absorbs particles. Gold carried over into the bath during processing can be easily recovered by depositing onto the cathode
Easily programmable parameter management system
USB port for easy software updates
Completely cyanide-free process
OTEC ECO Maxi and ECO Mini – Disc Finishing for Jewellery Polishing
For jewellery makers, OTEC have also developed compact versions of their ground-breaking industrial CF disc finishing machines. These are the ECO Maxi and ECO Mini, both table-top, easy to use, units.
ECO Maxi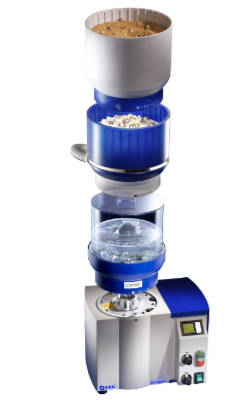 Low investment, low space requirement – table-top
Three processes in one unit – magnetic, wet and dry polishing
Fine polishing granulate ensures material removal in the micro range
Diamonds, zirconia or pearls in their settings are not damaged
ECO Mini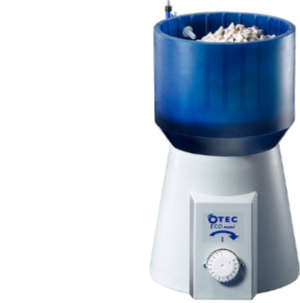 Tiny footprint even on a table-top
Quickly restores tarnished and worn jewellery to showcase standard
Available in wet and dry versions
Built-in timer
For Medium to Large Scale Jewellery Production
For more robust pieces or larger processing quantities, whether made from precious or non-precious metals, Fintek are able to offer the OTEC CF disc and DF drag ranges of finishing machines. These come in variants from single to large multi-bowl systems and also have optional separation units.
CF Disc Finishing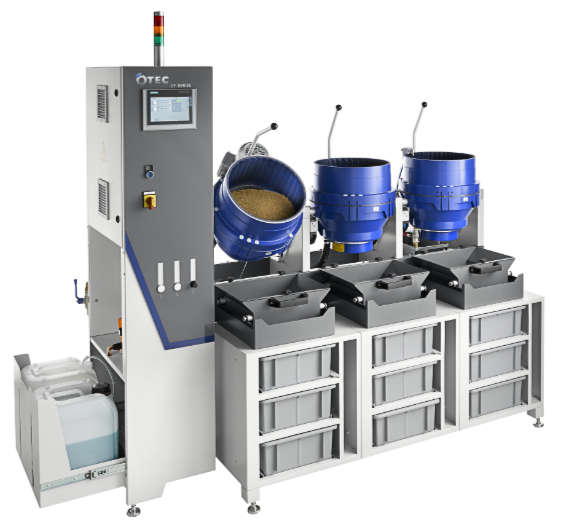 Ideal for medium to large scale jewellery and decorative piece manufacturers.
Modular: 1-6 drum
7.5 inch colour touch panel – up to 1000 storable programmes
Wet and dry finishing
Integrated options for remote machine maintenance and control
EPAG Flex - modular electropolishing system for larger jewellery producers
Epag Smart - low capital outlay table-top electropolishing machine
Automated jewellery finishing and polishing - electopolishing and disc finishing machines