Events
Find out about our extreme performance and super finishing services and machines at the following events.
Fintek Events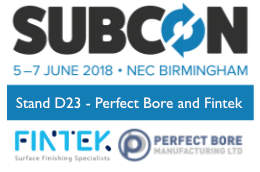 Subcon 2018
05/06/2018 - 07/06/2018
D23
NEC, Birmingham
At Subcon 2018, on the Perfect Bore and Fintek stand D23, surface finishing experts Fintek will be showing the latest subcontract mass finishing and extreme performance superfinishing services.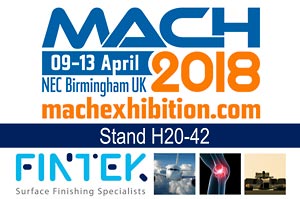 Mach 2018
09/04/2018 - 13/04/2018
H20-42
NEC, Birmingham
On stand H20-42 at Mach, Fintek will be showing the latest developments in performance superfinishing and mass finishing.
Otec Events
Experience the new generation surface finishing machines from OTEC at AMB 2018 in Stuttgart on booth 8C51 in hall 8. More than 1.500 Exhibitors from over 30 nations.