Home
/
Industry
/ Autosports
Autosports Metal Part Surface Super Finishing for Motorsport Engineers
Autosports are as synonymous with rapid development off the race track as well as on it. Racing car engineers are looking for maximum performance gains often through incremental improvements. Fintek provide surface super finishing of key engine, gearbox and other load bearing components used by some of the world's top motor sport teams.
Race cars stress metal components to the very limit of their endurance. Wear friction is the enemy, taking vital fractions of a second off lap times and sometimes leading to total part failure.
Fintek work closely with engineers, drawing on years of experience and enthusiasm for motor sport, to develop and deliver subcontract super finishing services to meet or exceed the part's performance goal.
We can also provide surface finishing machines and support for in-house use and are able to advise on the best approach.
Precision performance parts finishing processes for autosports include deburring, fine grinding, edge honing / radiusing, smoothing and polishing. Usually more than one process is combined into a single cycle time, ensuring a superior finished part on visual inspection alone.
Besides surface improvement before the application of advanced hard coatings, we can provide additional fine surface finishing after the coating has been applied. Our processes remove minimal material while substantially refining the surface of the coated component by removing hard droplets that form during coating. Such droplets compromise the part's surface and can cause costly damage should they break off when the part is in use.
Typical Autosports Parts we Extreme Performance Finishing:
Gears
Steering rack pinions
Clutch baskets
Drive shafts
Camshafts
Gudgeon pins
Crank shafts
Drive train components
Finger followers
The benefits:
Produces a superior part – visually and confirmed by testing
Surface smoothness better than Ra 0.05μm (often Ra 0.01μm)
Reduced friction wear for better performance
Longer part life and less prone to failure under load
Removes inconsistencies of hand finishing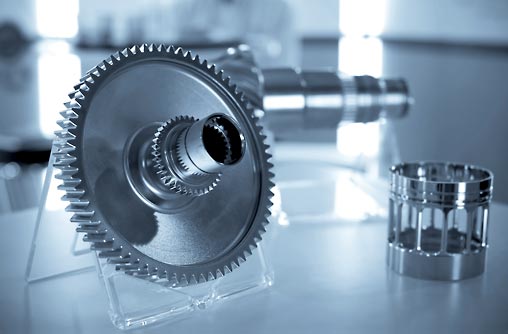 Surface finishing gear wheels