Home
/
Machines
/
OTEC Mass Finishing
/ SF-HP Large Workpiece Stream Finishing
SF-HP - High Precision, High Performance Stream Finishing for Larger Metal Workpieces
Also see more videos on the OTEC channel
Have you been frustrated by a lack of available equipment to automate surface finishing of larger workpieces? Not anymore!
The new OTEC Präzisionsfinish GmbH SF-HP breaks new ground. Designed specifically for fully automated precision surface finishing of metal workpieces up to 650mm in diameter and 650mm long, and weighing up to 200kg.
Based on the company's proven stream finishing technology the SF-HP is packed with innovations that ensure precise and repeatable deburring, edge-rounding, smoothing and polishing to a mirror-like finish.
Numerous process head and spindle axis settings allow you to create a highly controllable flow through the process media. Perfect for accurate targeting of specific workpiece surface points. This ensures minimal material removal so maintaining required tolerances of precision engineered parts.
OTEC SF-HP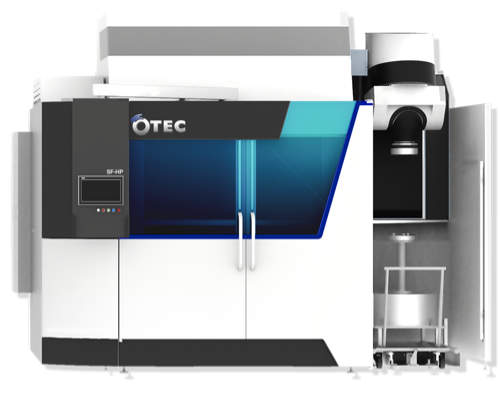 Large component stream finishing
workpieces up to 650mm in diameter and 650mm long and weighing up to 200kg
Easy-to-program for precise and repeatable finishing
Integrated pulse finishing
Fully automated
Quick process cycle times
Pulse Drive Technology
As standard, the SF-HP includes OTEC's patented 'Pulsfinish'. Pulse drive technology delivers defined and repeated movement intervals between the process media and workpiece by quickly changing the direction of rotation of the heads.
Along with fast acceleration and deceleration of the heads, these rapid changes in movement increase the finishing forces exerted. Typically, this makes it possible, to deburr, edge-radius and smooth from Rpk 0.3μm to Rpk 0.1μm in a single work-step in just a few minutes.
Easy to Use
Further features include automation for holding, machining and workpiece change. Where multi-step processes require different media a simple container swap system provides for rapid change-over to keep production speeding along. Operation is made easy via a 15 inch multi-touch colour display. Repeatable process steps can be stored for quick recall to ensure consistent accuracy.
Going Beyond
In addition to the SF-HP, Fintek supply the full range of OTEC CF disc, DF drag and SF  stream finishing machines. From bench-top to series production fully automated and robot assisted, find out more.
See more click the buttons below.