Machines and Services for Mass Finishing and Polishing of Precision Metal Parts
What we do:
Fintek specialise in the sale of equipment and subcontract services for the mass finishing of metal work pieces, intricate metal parts and precision parts with holes and complex inner surfaces.
Our experts can help you find the right fine grinding, smoothing, deburring, honing, edge radiusing and polishing method to meet your quality requirements.
Who we do it for:
Engineers in aerospace, autosports, automotive, pharmaceutical, medical device, toolmaking, general engineering and many other demanding industries who are driven by the need for cost effective, consistent quality and surface finish of precision metal parts.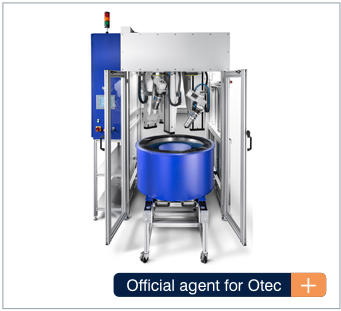 The benefits:
We develop the best surface finishing process for you – send us a trial work piece and we prove it for free.
Optimised process times save you money and deliver repeatable quality.
Buy the complete process including the highest quality Otec machine, process media and expertise to get you going in-house.
Or save on the capital expenditure by outsourcing to us and our skilled staff will run the process for you as a sub-contract service.
You are working with a company with more than thirty years' experience.
Unique access to the global technical expertise of OTEC Präzisionsfinish GmbH.
Ask an Expert About:
Free trial metal part finishing
Sub-contract finishing services
Machine, media and process